THE Cupra is introduced to the Greek public with a dynamic range of models that have electric mobility as a common denominator. At the heart of the range is its new electric model Born which we drove in mixed conditions – in and out of town – discerning its dynamic characteristics behind the wheel. The new model successfully marries the dynamic sports brand that the Cupra with the electrified era.
And Born seems to combine both elements with particular harmony. In terms of dimensions, the new model belongs to the small and medium category with a length of 4.3 meters while stepping on the platform MEB of the Volkswagen Group which is designed from the beginning to support electric cars The new electric model looks ready to take on its most powerful rivals – in the category of pure electric vehicles – with the help of the new electric motor which in this case produces 204 hp. It has a battery capacity of 62 kWh. Its torque is 310 Nm available from zero turns.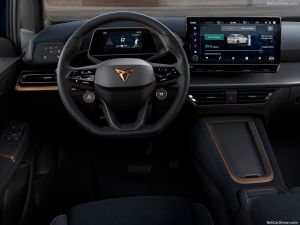 In its separate points the intelligent energy recovery system in two programs. In position D which does not alter the feeling of rolling but also position B which brakes the car, when the driver lets off the gas achieving energy recovery. Its autonomy depends on the way of use, the…temperament of the driver, the conditions – urban or extra-urban routes – but in any case the autonomy can reach 340 -400 km. The latter figure is not impossible, if the driver is familiar with the laws of economic driving. Its final speed reaches 160 km/h. In terms of consumption, we achieved 16 kWh per 100 km on the trip.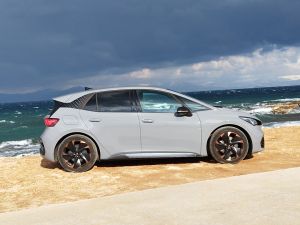 Especially important, that a fast charger, can wrap it Born with 100 km in just 7 minutes using a fast charging point with a power of 125 kW. The same process for filling from 5% to 80% is completed in time of only 35 minutes.
Clearly, the sporty looking electric model has a rich range of assistance systems and technology while its equipment has three levels: Born, Launch Edition and eBoostAmong them stand out the automatic braking system, the 12″ screen of the multimedia system with navigation system, etc. The luggage space is quite satisfactory at 385 liters and there is also space for the charging cables.
The 204bhp version (there's a more affordable 150bhp version) costs €37,900, but with the hefty €8,000 'Moving Electric' subsidy, it drops to €29,900.
Source:Tanea