New Juke Hybrid entered hybrid technology and wins over its audience with fuel economy without much sacrifice in performance. The Japanese model has acquired new features in the appearance – which are most evident in the front part – while its interior aesthetics are more luxurious.
The 7-inch digital screen dominates the center of the dashboard. There, among other things, the energy flow of the hybrid system is displayed with all other applications, etc.
The passenger spaces are enough for four passengers while the luggage space now reaches 354 liters.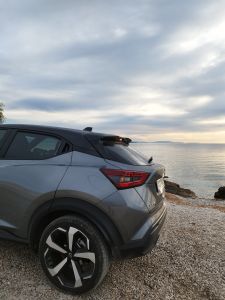 Her entrance Nissan in the hybrid era it finds fertile ground in its new SUVs with the small Juke getting the Hybrid moniker which demonstrates the new hybrid powertrain. The specific system consists of Nissan's generation gasoline engine, 1.6 lt. 94 hp combined with a particularly powerful electric motor of 49 hp and 205 Nm of torque. It also has a 20hp high voltage starter/generator system. The combined power reaches 143 hp and according to Nissan it offers 25% more power and a reduction in fuel consumption of up to 40% in the urban cycle.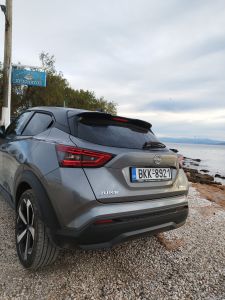 During our first test the Juke Hybrid it manages to move as electric on longer routes and in an urban environment with a significant benefit in fuel economy. Its electric autonomy is achieved as long as the driver does not exceed speeds of 55 km/h, a speed that is common in urban routes and traffic jams. If the system is also used with energy recovery, the battery will always be charged.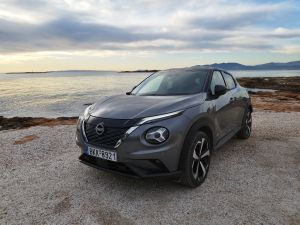 In normal conditions, fuel consumption does not exceed 5.5 liters/100km! The Juke Hybrid also features the e-Pedal system , where energy savings benefit from the recovery of the hybrid system. Essentially the e-Pedal as in the Leaf, when activated allows driving to be largely done using the brake only, but not entirely.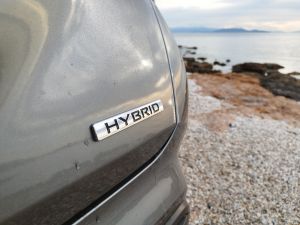 Also, the driver has at his disposal the Normal and Sport modes when he wants more power. In terms of performance, its acceleration is covered by 0-100 km/h in 10.1 seconds.
Source:Tanea